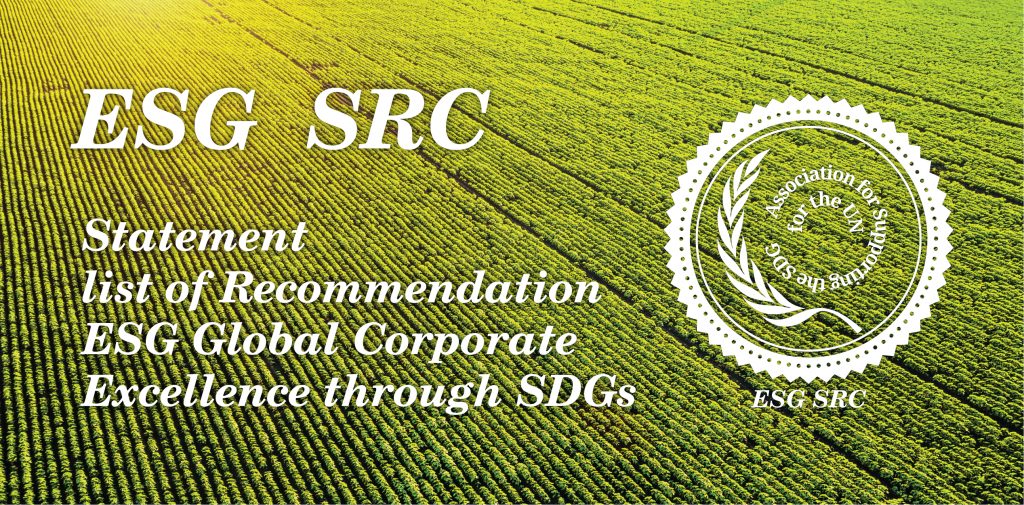 The Association for Supporting the SDGs for the UN (ASD) is an observer organization to the ICMA Green and Social Bond Principles. Also, we created an Asian Plastic Working Group with the Sustainability Accounting Standards Board (SASB) which is the international ESG standards organization and we are promoting research projects regarding ESG Environmental standards of the Asia-Pacific region. 
ASD conducts 'Second-Party Opinion and SDGs mapping and SRC (Statement list of Recommendation ESG Global Corporate Excellence through SDGs)' on corporate-issued post reporting of Green Bonds (GB) and Social Bonds (SB) in accordance with Recommendations for Sustainable Finance Taxonomies.
In particular, the SRC strongly advises companies on ESG financing and investment.
The association has also proposed Asia's First-ever 'ESG Quantitative Easing (ESG QE)' and advises the revitalization of green bonds, social bonds, and MBS, thereby boosting the economy, increasing job opportunities, climate response, carbon reduction, and energy conversion.
After the COVID-19 Pandemic, the association proposes an ESG QE(Quantitative Easing) for economic stimulus, climate change action, and reduction of carbon emission. This policy will further contribute to the invigoration of ESG bonds.
Proposal Link —>
Proposal 1: First ever in Asia: 'ESG Quantitative Easing(ESG QE)'
Proposal 2: First ever in Asia: 'ESG Quantitative Easing(ESG QE)'